Feldenkrais with Brigitte Kawakami
Monday  4:15 – 5:15 pm, 
Friday   9:30 – 10:30 am, 
Saturday 10 – 11 am  (NOT 9:30 – 10:30 am). 
Beat the pain with Feldenkrais. These Awareness Through Movement lessons (ATM) are designed to engage the whole you, enabling you to improve your over-all well-being, including your flexibility, coordination and breathing, energy level and self confidence, taking you to a higher level in all of your activities. This class will include movements standing, sitting and on the floor. Floor movements are optional with adaptations available.
Brigitte Kawakami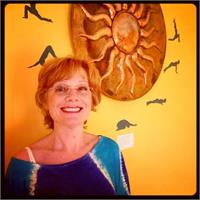 The Feldenkrais method has dramatically changed Brigitte Kawakami's life. Bebe – as she is fondly called – encourages her students to "grow younger with Feldenkrais."
Brigitte was born to a family in Austria, where alpine hiking and downhill skiing were part of their physically active lifestyle. In 1976, Bebe came to the US, and eventually to Hawaii where she married a wonderful local man.
Crossing the street one day, Brigitte was struck by a car and tossed into the air. After that, she suffered back pain for over 25 years. She tried Rolfing, chiropractic care, Pilates, yoga, and shiatsu massage…all helped, but only for a few days and the pain always came back.
Bebe discovered the Feldenkrais method with Eve Strauss in Honolulu and experienced relief. This led to further study and training with Jerry Karzen on Maui, and after practicing Feldenkrais for 8 months she was pain free. Her studies continued at the main Feldenkrais Institute in Vienna, Austria with Jeremy Krauss, Luci and Carl Ginsberg, and Miriam Pfeiffer. She is now more agile than she was even as a child!
As a Guild Certified Feldenkrais ® teacher herself now, Bebe is dedicated and passionate about the Feldenkrais method. Formerly a kindergarten teacher, she is an enthusiastic instructor. She enjoys sharing the Feldenkrais technique in two ways: group classes (formally known as ATM – Awareness Through Movement) and one-on-one sessions (formally known as FI – Functional Integration lessons).